Events Mobile Application for Organizers & Exhibition Centers
A Great Event Marketing Tool In Your Hands
Powering visitors' registration at big trade shows for years, with great success.
Engage your events' audience
Your events' success begins before the opening date and can certainly continue to generate leads for your exhibitors long after it ends. All you need are the right tools to make it happen.
Our new, white-labeled mobile app for event organizers and venues goes far beyond one-click mobile registration and provides everything exhibitors and visitors need to connect and exchange contact information.
Not only that, our solution provides your visitors with an exciting and informative experience in which they can search for exhibitors, products, or how to get to the pavilions they are looking for.
Without a doubt, our mobile app solution is a brilliant marketing tool you can use to inform and engage your audience.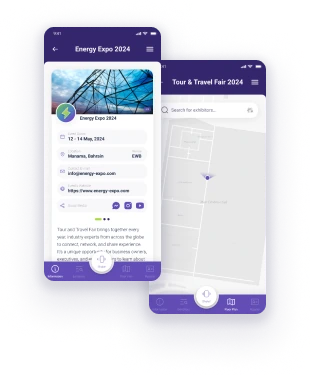 Full-featured Events mobile app to engage your audience
Drive your previous attendees to revisit your event the next year. Promote your events in a new way. Give your attendees a way to know more about your event and your exhibitors. Available for iOS and Android devices.
Just a few of our mobile app's highlights are:
Fully white-labeled, with your logos and colors, and under your accounts in AppStore and Google Play
Long-lasting, measurable lead generation and tracking details that you can share with your exhibitors
Engaging and informative with detailed event information
Searchable database of your exhibitors and their products
Boosts "follows" on your and your exhibitors' social media accounts
Multilingual support for over 40 languages
We can't describe our solution better in words.
It's best to experience it in a demo.
Looking to offer an exceptional registration experience to your visitors?