Event Registration Software for Convention & Exhibition Centers
An Unmatched Registration Experience for Your Visitors
Powering visitors' registration at big trade shows for years, with great success.
A reliable registration solution.
Welcoming millions of visitors and hosting tens or hundreds of events during the year, is arguably a critical task.
You need the best and most reliable solutions to guarantee the most successful operations and satisfy all the engaged parties: organizers, exhibitors, and visitors.
At least when it comes to your hosted events' registration needs, we have you covered.
With our software, you can offer your organizers and visitors an unmatched registration experience. Our solution will take care of the registration process and will free you from additional operational hassles.
Combining the experience we gained from being in the events industry for years with our extensive know-how in software, we built a solution that sets new standards in event registration. A solution that can help you stand out.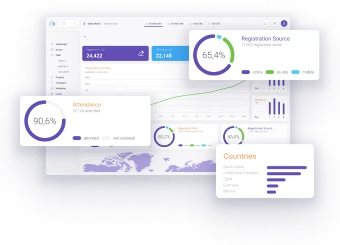 A feature-rich event software
Our software, built from the ground using the world's most robust, high-end technologies available today, will guarantee an amazingly smooth, worry-free registration flow and full peace of mind for your operations team.
Just a few of our platform's highlights are:
Receiving registrations from everywhere (on-site, online, mobile)
Uninterruptible on-site registration flow
Countless customization and branding options
Fine-grained event configuration
Almost zero setups for the on-site registration & badge printing
Events-specialized CRM and e-mail marketing
Fast and effortless self-registration
Notifications and alerts to the registered attendees
Multilingual support for over 40 languages
We can't describe our solution better in words.
It's best to experience it in a demo.
Looking to offer an exceptional registration experience to your visitors?