Event Registration for Event & Trade Show Organizers
The Best Registration Solution for Your Events
Powering visitors' registration at big trade shows for years, with great success.
Taking visitors' registration to the next level.
We know that you need to plan everything in great detail to achieve the most success with your events. And that means focusing on your exhibitors, your visitors and sales.
To help you out to the greatest extent possible, we designed a platform that can take well care of your events' registration, saving you time to focus more on your events. And we built it in such a way that it's super-easy and effortless to setup your events' registration in minutes, freeing you more from operational hassles.
With our solution, you can provide your visitors with an exceptional registration experience while you're free to focus on the most important aspects of your events, resting assured that our platform takes full care of the online/onsite registration and badge printing process.
Combining the experience we gained from being in the events industry for years with our extensive know-how in software, we built a solution that sets new standards in event registration. A solution that can help you stand out.
A feature-rich event software
Our software, crafted using the world's most reliable, high-end technologies available today, will ensure an amazingly smooth, worry-free registration flow and full peace of mind for you or your technical team.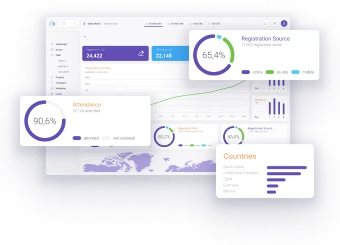 Just a few of our platform's highlights are:
Receiving registrations from everywhere (on-site, online, mobile)
Feature-rich mobile app for your events
Creating leads and connecting visitors with exhibitors
Finding prospective exhibitors from your visitors database
Seamless e-mail marketing using your visitors database
Notifications and alerts to the registered attendees
Uninterruptible on-site registration flow
Effortless on-site setup even for non-technical people
Use your own equipment (*) and cut costs dramatically
Countless customization and branding options
Fine-grained event configuration
Multilingual support for over 40 languages
---
(*) Our onsite terminal registration software is compatible with any device: Windows 10+, Android tablets, iPads, Macs & Linux and need almost zero configuration.
We can't describe our solution better in words.
It's best to experience it in a demo.
Looking to offer an exceptional registration experience to your visitors?