Visitor CRM Software for Events & Trade Shows
Finally, a CRM that specializes in your needs
Capturing visitors' registration information at big trade shows for years, with great success.
A multifunctional tool to boost your marketing and sales
Your visitors database is a lot more precious than just past registration records. Retaining visitors engaged with your updates and upcoming events helps ensure they will return next year. But that's not the only thing for sure. It's a great tool to feed your sales funnel and identify prospective exhibitors for your next events.
However, most of the CRMs out there are either too generic or too challenging to use, with tons of functionality unrelated to an event organizer's needs. And most importantly, they require a lot of manual work and distract you from your work flow.
Our CRM solution comes to the rescue. It is intuitive and seamlessly integrated with your registration flow. Every registration becomes automatically available as a contact in your CRM. Without hassles or additional work. You just search for prospects or send out your newsletters.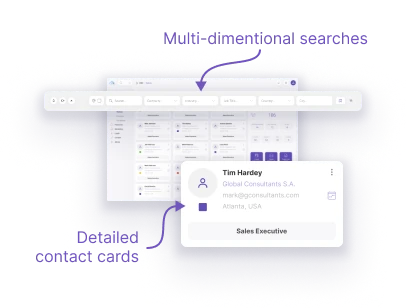 Seamlessly integrated Visitors CRM
Send newsletters in minutes. Feed your sales funnel with new potential exhibitors. Extract all your contacts data anytime. Integrates seamlessly and automatically with your event registration.
Just a few of our Visitors CRM highlights are:
It is seamlessly integrated with your registration flow
Contacts database that is fully searchable
Provides you with a complete history of contacts' visits to your events
It integrates well with our email marketing solution, allowing you to send newsletters with a single click
It can export all of your contact data to Excel
It is really simple to use, with no learning curve
We can't describe our solution better in words.
It's best to experience it in a demo.
Looking to offer an exceptional registration experience to your visitors?