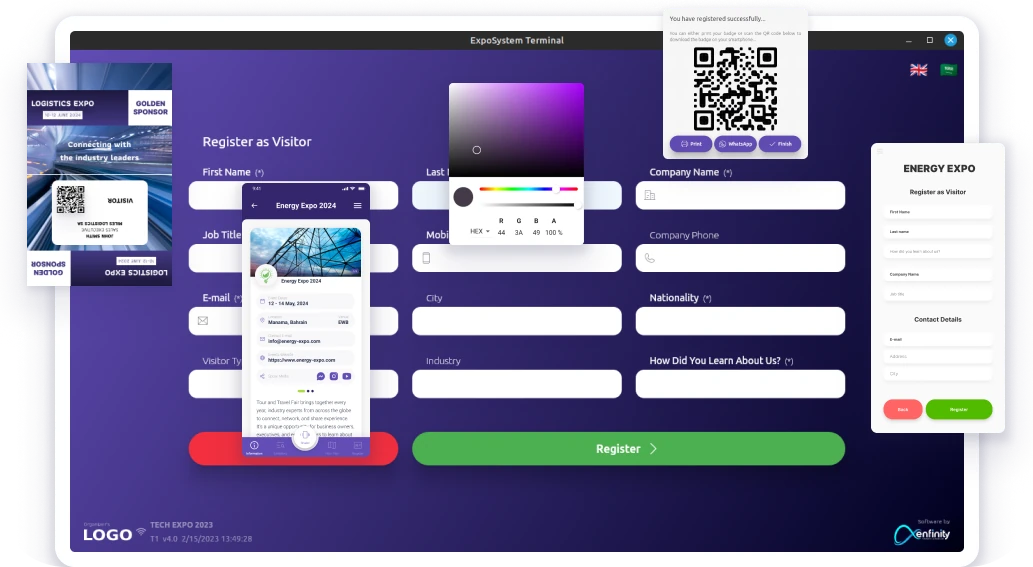 The ideal solution for trade show organizers and exhibition centers.
Our Events Cloud Platform
Powering visitors' registration at big trade shows for years, with great success.
What is
Expo

System

ExpoSystem is our next-generation registration software that can take care of the registration process for in-person events of any kind, offering visitors an exceptional, effortless online, onsite, and mobile registration experience, including badge printing.

You, as a venue or an event organizer, have complete control over registration, attendee management, and engagement.
Who is
Expo

System aimed at?

ExpoSystem is aimed at exhibition centres and event organizers looking to offer an unmatched registration experience to their visitors.

Our platform is super-fast, reliable, and scales easily to meet any demand. Either you are organizing conferences or major international trade shows, or you are a large venue hosting hundreds of events on an annual basis, ExpoSystem is by far your best available choice.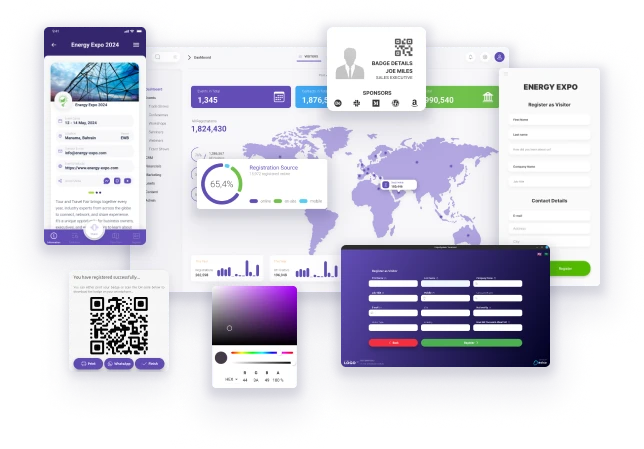 Enterprise-quality, next-generation event software products that are fully integrated to provide you with everything you need for event registration and event marketing.
Our Promise
The trusted technology partner you can count on.
ExpoSystem is based on the world's most high-end technologies available today and implements a battle-tested software architecture that ensures a 100% unbreakable on site/offline event registration flow during events, regardless of their size.
We are thrilled to offer exhibition centers and event organizers:
An exceptional registration experience for attendees and visitors, powered by modern and eye-catching user interface technologies.
An easy and effortless event registration setup process for event managers and/or administrators.
A robust, super-fast, and secure visitor registration solution.
Our cloud infrastructure is hosted in the world's best data centers and spreads over different continents for optimal performance.
Full trust and privacy. Your visitor data belongs to you and only you. We will never use (*), share, or disclose your data to any third party.
(*) other than training our AI and machine learning algorithms internally for your own benefit. Read more details on our FAQs page.
Full peace of mind for event organizers and venues. You can rest assured that your registration flow will operate smoothly and uninterruptedly, regardless of the network conditions during your events.
Looking to offer an exceptional registration experience to your visitors?